I've been playing radio for over 40 years, if you count what I did as a kid in Ohio. I've been playing ham radio since 1969, which makes me a non-credited member of the Quarter Century Wireless Association. We used to call it the "Quarter Century Toggle-less Association when the OVTN was rampant & weird. Now most of those who hung out with the OVTN gang are de-facto, non-credited of the same age-group.
At any rate, over the past however many years of radio playing, I've collected a piece of paper here or there that says I've done something in torturing electrons or absorbing heat from tubes and transistors. Here are a few of the more notable pieces of paper: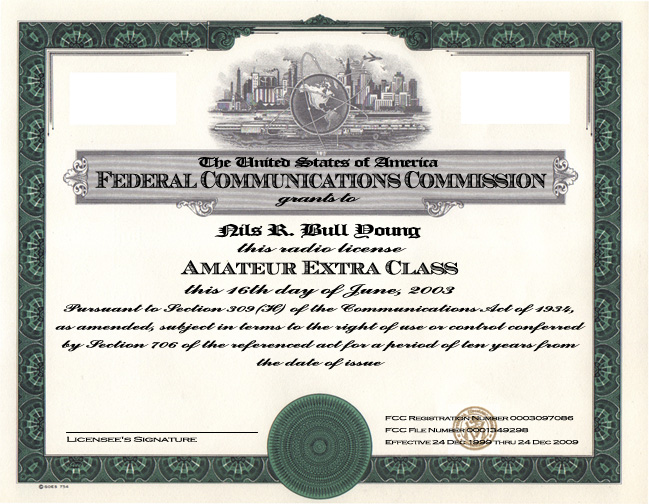 The Unofficial
FCC Amateur Extra Class License
Used to be that you got a fancy, official-looking sheet of paper when you passed the once intense Extra Class license exam. Well, budget cut-backs & war-time economies, you know, crimp official style. So when my generic-looking version of
my
Extra Class ticket arrived, I got out my father's Goes Lithography Co. catalog & made my own fancy-pants
diplom
. It only took me about three hours, with the help of a scanner & PhotoShop. Neat, eh? Now if only I'd signed it before I put the frame around it.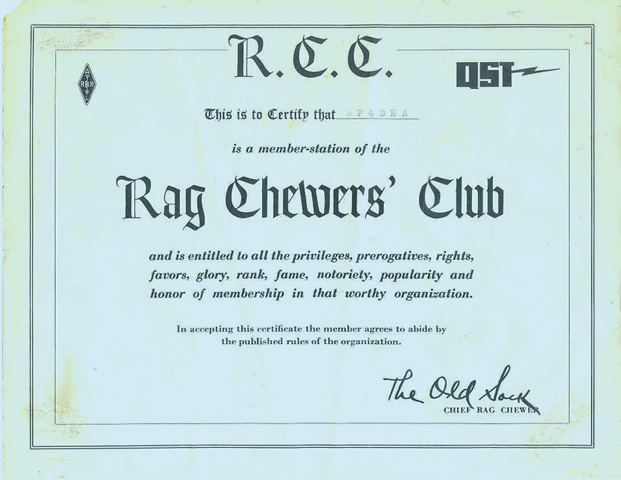 The Rag-Chewers-Club Diploma
Officially handed out to hams who have made long-winded contacts with people around the globe for whatever reason. If you can gibber & make sense on the air for thirty minutes or so, you can get one of these. The other guy, presuming he is already a member of the RCC, is the one to hand you the admission form. And we won't go into the Freudian thing about chewing on rags.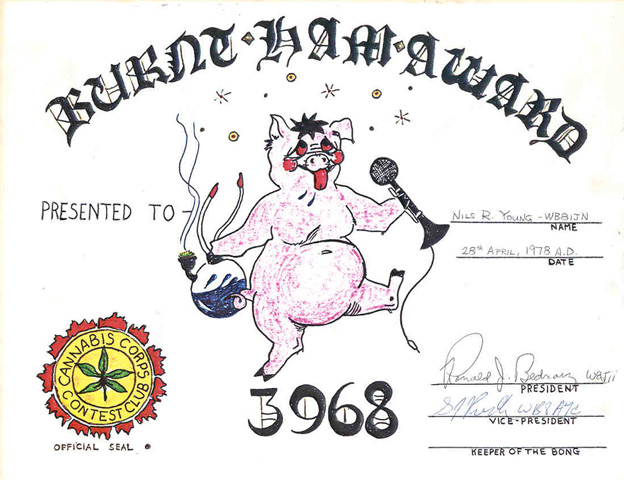 Burnt Ham Award
If you have to ask, you'll never understand. I picked this up at one of the early Hamvention madhouse parties thrown many years back and out the window from an OVTN bash. Like I said, if you have to ask . . .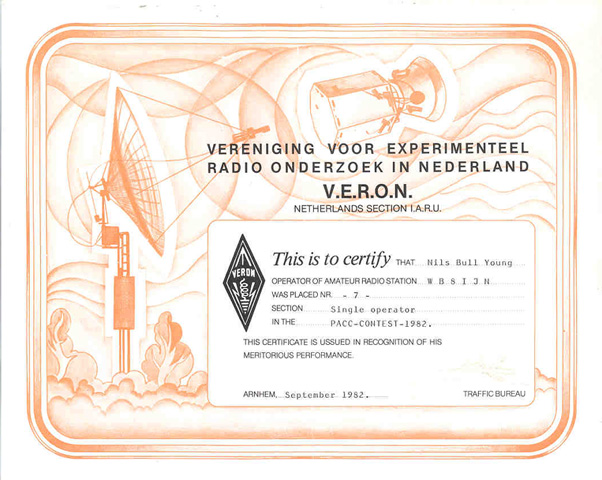 PACC Dutch Amateur Radio Union Award
Seventh Place, Single Operator
Look, I'm not a contest head. I don't do the big-time DX contests, especially the CW ones, and I don't generally worry about awards and scores and all that. But there are some contests that I think are fun. Usually slow speed, low-brow, not-so-hoitsy-toitsy, see? Like the Dutch Contest or the Scandinavian Activity Contest. Or the Romanian Contest. You get the picture. I got this award.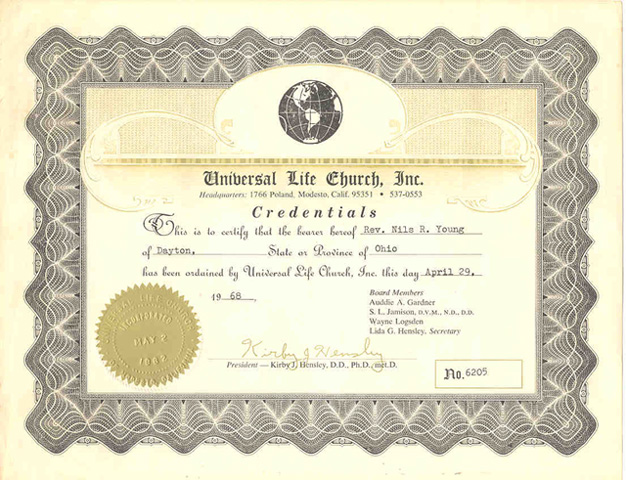 Ordination Certificate in the Universal Life Church
If you check out the date on the official seal, you'll see that I got this one back in the days of hippies and hedonism, mostly because I'd heard how easy it was to do. It's an irony of a checkered past. Praise the Holy Mother Conqueress!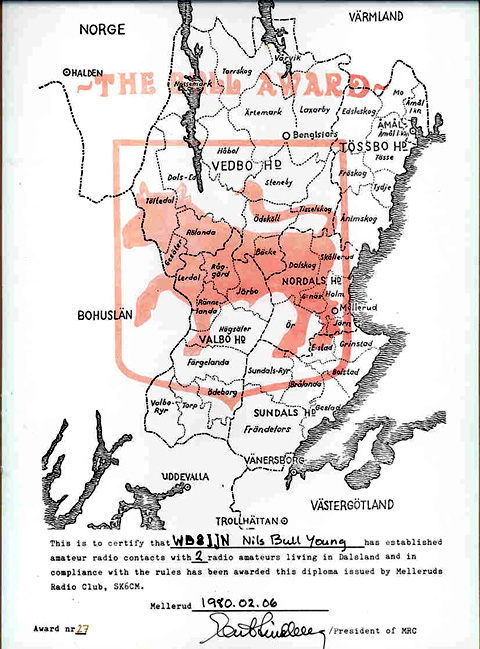 The Bull Award
I found this one in the Swedish Amateur Radio Clubs official
diplombok
and found out that I was elegible. So I sent in the paperwork and here it is, hanging on my wall below a picture of a deer and my membership certificate to the G-QRP Club.
Honorable Discharge from the United States Navy
If you've been in the suit, then you know what one of these looks like. For all those who haven't served but who like to talk grand schemes about being in the military service, I can only invite you to put your body where your mouth is and sign up. Recruiters love to fill their quotas & I like to see big-talkers get off their high-minded, self-righteous candy asses and do what they've been talking about. That's why there ain't no picture of the paperwork here. You need to earn that one, Bub!