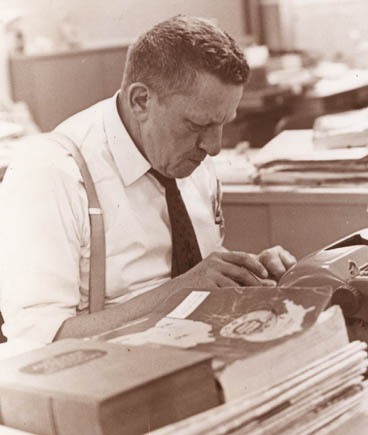 Some time during the eighth grade, Mom bought me a copy of
Hugo's Norwegian Simplified
. She got me the book because Dad had often spoken of his mother's Nordic heritage & I saw the book as a chance to figure something else out: who I was.
As I was learning Norwegian, I noticed how much it resembled English. It was the beginning of my interest in linguistics. I wanted to hear radio programs from distant places, and I knew this only happened on shortwave radio, about which I knew basically nothing.
So I pestered my father some more and eventually he sprung some of his hard-earned cash for a brand new Hallicrafter's S38E radio.
One of the first stations that I heard was Radio Australia, which I discovered one morning while Dad was getting ready for work. At the time, Radio Australia started its transmission with a bell chime version of "Marching Matilda." I had heard the song many times before.
You see, back when I was a very small child, my father would sit me on his knee and sing "Waltzing Matilda" to me. At points in the song he would explain the different words. Swagman. Billabong. Kulibar trees. He also talked to me in a language that he had picked up during the war on the Soloman islands. The language was Tok Pijin. But more about that later.
I got a lot out of that radio. I tuned in to Radio Havana and the Deutsche Welle, Radio Moscow and the Voice of America. I learned about languages that I had never known existed. I got preachments on every political system imaginable, and from a variety of viewpoints.
By the time I was off to college, while my friends were trying to understand Karl Marx from classroom lectures, I already understood him. I'd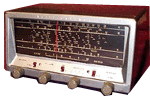 listened to Fidel's speeches and Joe Adamov's explanations of Soviet society on Radio Moscow.
Recently, my youngest son and I were sitting in the living room, listening to my modern, much more portable Sony ICF7600 receiver. It was morning and the conditions were perfect for listening to Radio Australia, which I found easily enough . . . transmitting their program in Tok Pijin.
I felt as if my father were there in the early morning light of the living room, with me again. I could hear his voice singing "Waltzing Matilda" softly in the room around me . . .
which leads to the next page.