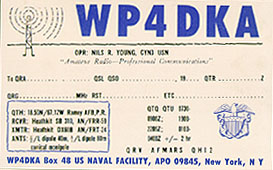 Far in the long-back, when I started tinkering with radio and got deep enough into it to think about it seriously, I also began to think about getting a ham radio license. At first I was nominally undaunted. I would learn the code. I would learn the theory. I would get a callsign. I would get on the air. But like all good gringo children, I lazied out.
Then, somewhere between communications yeoman school in Norfolk Naval Station and the point in time where I was in Puerto Rico but no longer neurotic, I thought about ham radio again. This time I did not lazy out. I studied the theory. I learned the elements of Morse radiotelegraphy. I got a callsign, a license, a bunch of equipment. And then I got on the air.
Of course, being gainfully employed -- if that is what you get for being in the USN dollar-wise means -- helped a bit. I built a Heathkit SB310 shortwave receiver and modified it to receive the 15m ham band. I built a Heathkit DX60B transmitter. So by the time my license showed up, I was ready to play.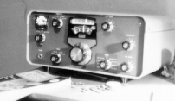 Well, kinda.
I couldn't really copy code that well. And my antenna system sucked. What I heard was pretty good, for what I could copy. And what I could do with a transmitter almost made a difference. But, as it had been when I was a child, CW alluded my full comprehension until I began playing with a "bug" . . . one of those fancy high-speed CW keying devices from the days of true spark & polish navy radio.
After fiddlin' with that for a while, I ordered, one right after another, the Ten Tec PM2 transceiver, a matching antenna tuner & SWR bridge, and eventually, a KR40 keyer, complete with paddles & power supply . . . all in one box!
I fiddled with the KR40 the most, and discovered that I was actually learning "good" CW from using it. Soon I was up to 20 WPM copy & having fun doing it. Soon enough I was having fun. Just in time to get transferred from Puerto Rico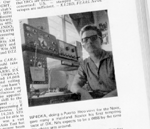 to the communications spaces of the USS Saratoga, but not before getting seriously hooked on DX.
After all, I was DX when I was in Puerto Rico. If only I'd been able to pass the General theory test back then. After all I took the damn test three times! But eventually I got my "General" by way of passing the "Conditional" test while onboard the Sara. But that's another story . . .
which leads to the next page.